2010-11 Season
Chase is a East Georgia Bobcat
Chase Arrington has been a Bullpup, a Bulldog, a Rebel and now he is a Bobcat- an East Georgia Bobcat. Arrington is a freshman guard at the Swainsboro junior college which is playing it's first real season after being a club team in 2009-10. Chase has started two games and he scored 16 points against Brewton-Parker's JV and he had 11 versus Georgia Perimeter with three assists and he drew two charges. The Bobcats, who trailed by19 at half, rallied and pulled to within five points in the second half before losing 82-67 to Perimeter. Watch Chase in action Video
2009-10 Season
Chase signs with East Georgia
Chase Arrington signs- The former TCHS Bulldog guard signed with East Georgia Junior College. Chase scored 1,200 points in his two seasons at TCHS and his final two at Effingham County. He averaged 15.2 points and shot 38% on 3-pointers in his senior season. Story
Chase is wrapping senior season as a winner
Former Bulldog Chase Arrington is wrapping up his senior season at Effingham County High School as a winner. The Rebels have won five out of their last six games and moved over .500 on the season. On Friday Chase scored 12 points in Effingham's 67-53 at Wayne County. Earlier in the week Arrington hit a game-winning 3-pointer and scored 20 in a 45-42 victory over Brunswick. Watch and listen to Chase talk about his senior season Video
Arrington hits game-winner- Former Bulldog Chase Arrington dropped in a 3-ball right before the buzzer to give Effingham County a 45-42 win over Brunswick. Chase hit five three-pointers and scored 20 points. The Rebels are on a three game winning streak. Chase scored 15 and 17 points in wins over Screven County and South Effingham.
Chase tops Rebels- Arrington scored 19 points as the Rebels lost 55-44 at Statesboro in a region game.
Arrington scores 25- Chase led Effingham County to a 55-49 win at Savannah County Day by scoring a game-high 25 points for the 7-7 Rebels. He was 5-for-8 on 3-pointers and for the week he made 7-of-12 and hit 12-of-13 at the free throw line. Chase is averaging 16 points per game.
Chase hits 1000- Former Bulldog Chase Arrington scored his 1,000th career point on a 3-ball in the second quarter of a 44-40 home loss to Wayne County. Chase scored 22 points and was 6-for-13 from the field and he nailed two of his four 3-point attempts. He was 8-for-9 at the free throw line.
Chase honored- Arrington was named the Effingham County Now Athlete of the week. Read Story
Arrington leads Rebels to win- Chase scored 17 points in Effingham County's 47-44 win over Calvary.
Chase hits double-digits in rivalry win- Arrington scored eight of his 10 points in the second half as Effingham County beat South Effingham 41-27.
Arrington strokes two 3's- Chase scored 13 points as the Rebels whipped Savannah Christian 55-35 on the road. Chase is averaging 20 per game which was his goal coming into the season. Effingham County is 3-1.
Chase is on fire- Former Toombs County Bulldog Chase Arrington attempted 19 shots at Screven County and he made 18 of them. Chase was 11-of-11 from the field, six-of-six on 3-pointers and was seven-of-eight from the free throw line. Arrington scored 35 as he helped rally Effingham County from a 21-point deficit. The Rebels, however, came up short and lost 67-60 to drop their record to 2-1. Watch highlights Video
Arringtons open up with win
The Arringtons- Donnie and Chase- began their final basketball season together at Effingham County High School by beating Savannah Country Day 60-43 in Springfield. Chase, who is now a senior, scored 10 of his 12 points in a second half in which the Rebels outscored the Hornets 40-23 by getting the ball inside. Chase had four second half drives that netted eight points plus two free throws. Donnie, who was an assistant coach last season, is now the head coach at Effingham County, so he won his first game since he left Toombs County after the 2007-08 season. Y-101 Story Watch highlights Video
In a 42-39 win over Bryan County, Chase drove inside and scored the game-winning bucket and he hit the free throw after being fouled to give him a 14-point game.
Summer of 2009
Chase Arrington plays well in Carolina- Former Toombs County Bulldog was the starting point guard for Team Truth in the Bob Gibbons Tournament of Champions in North Carolina. Chase scored 14 points and hit three 3-points in a 75-71 win over the Richmond Squires. He also scored a bucket in overtime in a 65-64 win over the Carolina Raptors. Team Truth made it to the Final 32, but lost to the Florida Rams 62-52. Chase talks about his weekend Audio
2008-09 Season
Arrington update- Chase made the Region 2 Quad A All-Region basketball team in his first season at Effingham County High School and father Donnie, who was an assistant coach this past season, will be the head coach of the Rebels' basketball team next season.
Chase returns to Toombs County
Chase Arrington (#4) and father Donnie (2nd from right) at VHS
Former Toombs County Bulldog Chase Arrington returned to Toombs County as his Effingham County Rebels took on Vidalia. Chase scored 16 points and had a handful of assists. Arrington sank a second half 3-pointer, had four buckets and made five-of-six free throws. Arrington scored on a layup early in the fourth quarter to cut the Indians' lead to 44-42. However, Vidalia pulled away and won the game 69-51. Watch Chase in action Video
Donnie Arrington appears on Y-101- Chase's dad, Former Toombs County coach Donnie Arrington, was the halftime guest on Y-101 Radio Audio
Chase grabs the headline- Arrington scored 16 points in Effingham County's 51-41 win over South Effingham. Chase was the lead in the story in the Savannah News. Check out the story
Arrington sizzles from the stripe- Chase scored 14 points on just eight field goal shots in a 66-43 win over Savannah Christian. Chase is shooting 93% from the free throw line. He has made 28-of-30 shots and is averaging 14 points per game, second highest on the team. Effingham is 3-3.
Arrington hits double-digits - The former Toombs County Bulldog scored 20 points in Effingham County's 55-49 win over Jenkins. He had 16 in a 68-63 loss to Screven County. Watch Chase (number 4) in action against Calvary Video
2007-08 season
Watch Chase at Dodge County
Toombs plays better against Dodge, but the Indians win anyway
The Toombs County Bulldogs improved on an earlier 20 point loss at home to Dodge, but still they came up short in a 48-39 loss at Eastman. The Bulldogs opened up an 10-7 lead after a quarter. Dodge led 23-15 at half. In the third quarter Chase Arrington hit three of his first four 3-point shots and T.J. Smarts dropped in a 3-ball and scored off a steal to pull the Bulldogs to within five points after three quarters at 36-31. A.J. Fletcher picked up a loose ball and scored underneath to cut the lead to 36-33, but then a series of turnovers ended the comeback. Arrington led TCHS with 19 points and Smarts had eight. Y-101 Story Watch highlights of the game Video
Chase's new team
Chase Arrington, who played his freshman and sophomore seasons at Toombs County High School, has transferred to Effingham County where his father Donnie, former Bulldog head coach, is now an assistant. Chase scored 11 points in Effingham's 50-41 win over Charlton County. Watch highlights of Chase Video
Summer 2007
Arrington plays on AAU team that earns trip to Nationals
As a freshman on the Toombs County Bulldog basketball team, Chase Arrington averaged 9.8 points and led the Dawgs with 40 made 3-point shots. This spring and summer Arrington is, once again, playing for the AAU Georgia Hawks. In May the Hawks went down to Orlando and finished second in the Under 15 bracket which qualified them for the national tournament. Chase talks about the team and his role as the starting point guard. Audio
Chase plays in Spring Classic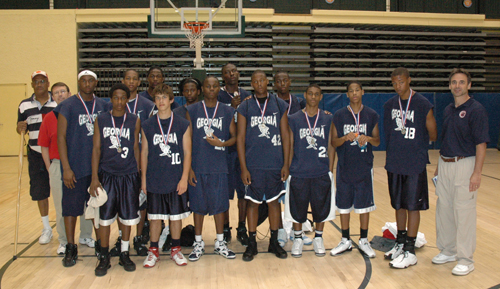 Chase pictured on first row, second from the left, at the 2007 Spring Classic II in Orlando. Father Donnie Arrington is also in picture in red shirt on far left.